Rosario hurt by line drive off sternum
Rosario hurt by line drive off sternum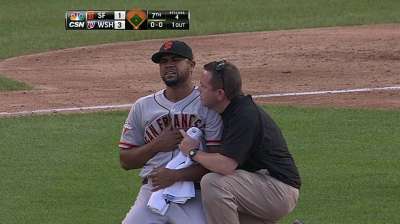 WASHINGTON -- Giants right-hander Sandy Rosario left Thursday's game against the Washington Nationals after being struck in the sternum by Adam LaRoche's seventh-inning line drive.
Manager Bruce Bochy said the rookie reliever, who sustained a bruise, could be sidelined for at least a couple of days.
"I didn't have time to think. I didn't have time to react," said Rosario, 27. "I couldn't breathe for about four or five seconds."
Leading off the seventh, LaRoche connected solidly with a 1-2 pitch from Rosario, who clutched his chest in obvious pain but picked up the ball after it caromed off him and threw to first base for the out.
Rosario then sank to his knees in agony and remained kneeling as he was tended to. A concerned LaRoche lingered near the first-base line, watching the scene at the mound intently. Rosario soon rose and left the field, flanked by members of the Giants' athletic training staff.
How did Rosario maintain enough presence of mind to make the play?
"Right when I opened my eyes, I saw the ball right in front of me," he said.
Rosario thus contributed one out to the 5 1/3 innings of shutout relief turned in by the Giants' bullpen in their 4-3 victory.
Left-hander Javier Lopez replaced Rosario, who has made a club-high 29 appearances since being recalled from Triple-A Fresno on June 12.
Chris Haft is a reporter for MLB.com. This story was not subject to the approval of Major League Baseball or its clubs.