Peguero likely to get September callup
Peguero likely to get September callup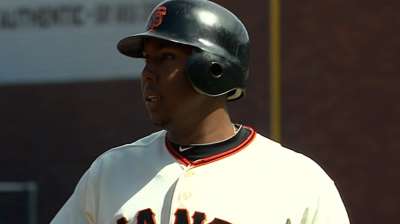 ST. PETERSBURG -- Though manager Bruce Bochy said that he and the Giants' decision-makers haven't started discussing the subject of September callups, he acknowledged that outfielder Francisco Peguero could be part of the group receiving late-season experience with San Francisco.
Peguero, ranked as the Giants' No. 10 prospect by MLB.com, hit .188 (3-for-16) in a six-game stint with the Giants earlier this season. He also played 17 games for San Francisco in 2012, posting identical hitting totals (3-for-16, .188).
"There's a chance we should see him in September. A good chance," Bochy said.
Should Peguero return, however, San Francisco's well-stocked outfield will get even more crowded, forcing Bochy to make tougher decisions regarding playing time.
Peguero entered Saturday batting .303 with three homers and 21 RBIs in 48 games for Triple-A Fresno.
Chris Haft is a reporter for MLB.com. This story was not subject to the approval of Major League Baseball or its clubs.