Affeldt throws for first time since groin injury
Affeldt throws for first time since groin injury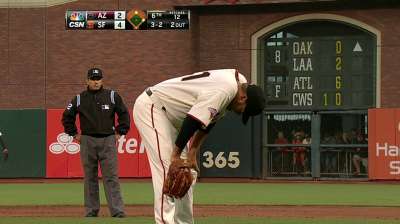 PHILADELPHIA -- Left-hander Jeremy Affeldt threw for the first time since injuring his left groin July 20, though he restricted himself to light tossing on Thursday.
"It was just step and throw. I didn't really activate anything," Affeldt said. "We didn't try to test it. But it felt pretty good."
Affeldt, who's likely to remain sidelined through at least the end of August, said that he made approximately 45 throws at 55-60 feet. After enduring a period of moving around as little as possible, Affeldt also has begun performing more strengthening exercises.
Chris Haft is a reporter for MLB.com. This story was not subject to the approval of Major League Baseball or its clubs.