Giants preparing for the Trop's quirks
Giants preparing for the Trop's quirks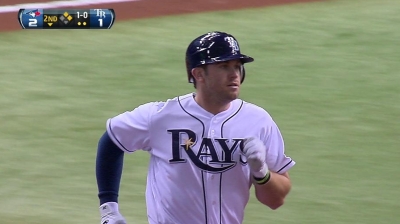 PHILADELPHIA -- Since relatively few Giants have extensive playing experience at Tropicana Field, where the team will begin a three-game series Friday against the Rays, pregame drills could be a little more intensive than usual.
The Giants have played on artificial turf and in domed ballparks -- more accurately, parks with retractable roofs. But few have competed at sites that combine the two. Tropicana's dome is not retractable, which will force the Giants to adjust to track fly balls against the backdrop of the ceiling.
Giants bench coach Ron Wotus said that he is "leaning toward" conducting full-scale infield practice, a custom which has virtually disappeared, to help players learn their surroundings. Coaches will hit practice grounders harder than usual to prepare infielders for what they might experience in the game. Wotus added that he wants corner infielders to take grounders that skip from the turf to the dirt cutouts to judge the different hops.
Wotus said that, overall, it's up to each defender to cope with the surroundings.
"That's part of being a professional," he said.
Chris Haft is a reporter for MLB.com. This story was not subject to the approval of Major League Baseball or its clubs.