GM says Giants were very interested in Wilson
GM says Giants were very interested in Wilson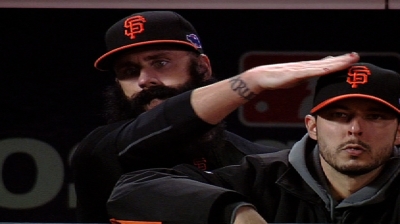 PHILADELPHIA -- Though Brian Wilson said the Giants "[didn't] want me back," general manager Brian Sabean insisted that the club maintained serious interest in re-signing its former closer until he accepted an offer Tuesday from the Dodgers.
Sabean pointed out Wednesday that Wilson, a three-time All-Star with the Giants, threw for them in a private workout and had representatives at two of his other throwing sessions. However, Sabean added, Wilson appeared eager to end his free agency and sign with a Major League club.
"He was wanting to move at lightning speed and obviously wanted to make a fast decision," Sabean said.
Asked if the Giants wanted to delay intensifying talks with Wilson until Wednesday's non-waiver Trade Deadline passed, Sabean said that the club's attention to the right-hander never flagged.
"Nobody was in more contact than the San Francisco Giants, particularly [vice president and assistant general manager] Bobby Evans, with the Wilson situation during the whole process. We were involved right to the end, before he signed."
Chris Haft is a reporter for MLB.com. This story was not subject to the approval of Major League Baseball or its clubs.