Zito's road woes nearly reach historic worst
Zito's road woes nearly reach historic worst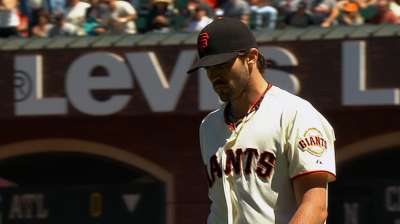 PHILADELPHIA -- Barry Zito's road performance has gone almost unrivaled, but not in a positive sense.
In the Giants' 7-3 loss Tuesday to Philadelphia, Zito's record in nine road starts fell to 0-7 while his ERA rose to 9.97. The left-hander allowed four runs and five hits while working 3 1/3 innings.
According to the Elias Sports Bureau, only one other pitcher in Major League history went 0-7 or worse with an ERA as high as Zito's in his first nine road starts of a season: Pittsburgh's Charlie Morton in 2010. The right-hander was 0-7 with a 10.38 ERA after nine road starts that year.
Chris Haft is a reporter for MLB.com. This story was not subject to the approval of Major League Baseball or its clubs.