Giants officially add Moscoso, drop Petit
Giants officially add Moscoso, drop Petit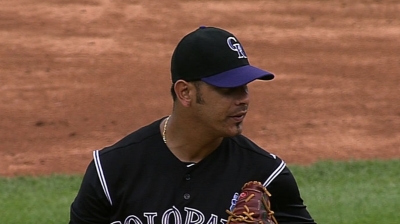 SAN FRANCISCO -- The Giants activated pitcher Guillermo Moscoso before Sunday's series finale against the Cubs and designated right-hander Yusmeiro Petit for assignment.
The Giants acquired Moscoso from the Cubs on Friday in exchange for a player to be named or cash considerations. He has not pitched in the Majors this season, but spent parts of the past four seasons in the big leagues with Texas, Oakland and Colorado, with a career 4.16 ERA in 57 games.
For Chicago's Triple-A affiliate this season, Moscoso went 7-5 with a 3.93 ERA.
"It's a good feeling that I'm here," Moscoso said. "I know pretty much all the guys, and I want to help the team win."
Andrew Owens is an associate reporter for MLB.com. Follow him on Twitter @OwensAndrew. This story was not subject to the approval of Major League Baseball or its clubs.