Bochy bemoans Giants' defensive woes
Bochy bemoans Giants' defensive woes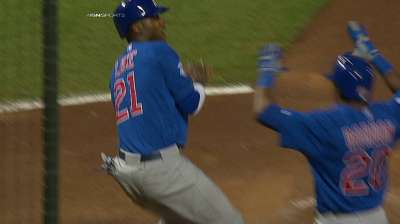 SAN FRANCISCO -- The Giants' stellar pitching during championship runs in 2010 and 2012 gets most of the attention, but manager Bruce Bochy said putting out a dependable defense was also a hallmark of those successful clubs. During the team's 2013 swoon, San Francisco has not thrown and caught the ball with the same consistency.
Through 102 games, the Giants' 74 errors were the most in the National League, tied with the Angels for the second most in baseball. San Francisco committed two of those errors in Friday's 3-2 loss to the Cubs, including the two-out, two-run misplay by first baseman Brandon Belt when a ground ball went between his legs and into right field.
"He's fine," Bochy said. "We talked a little bit. In this game, you have no choice when you have a hard day to bounce back."
Bochy said it is pointless for the club to look at the standings right now and that the focus should be on returning to the fundamentals.
"My biggest disappointment is we're last in the league in errors," he said. "That's what we're becoming, not who we are."
With the defensive lapses occurring at a high rate for a few months now -- the Giants led the Majors in errors in May -- Bochy said the team might participate in additional infield drills to improve the fielding.
"There maybe will be days we may not hit [in batting practice]," he said. "We may come out here and take ground balls or take infielding.
"We've got to get back to playing smart baseball."
Andrew Owens is an associate reporter for MLB.com. Follow him on Twitter @OwensAndrew. This story was not subject to the approval of Major League Baseball or its clubs.