Giants send down Dunning as Arias returns
Giants send down Dunning as Arias returns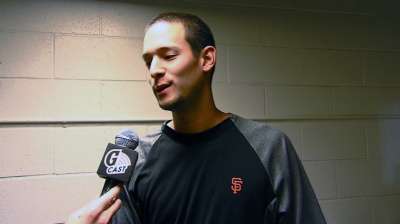 SAN FRANCISCO -- The Giants activated Joaquin Arias from the 15-day disabled list Friday after a July 8 appendectomy sidelined the reserve infielder. In a corresponding move, San Francisco optioned rookie reliever Jake Dunning to Triple-A Fresno.
Entering Friday, Arias was hitting .282 with a .302 on-base percentage and 10 RBIs in 60 games this season. He has appeared at shortstop, third base and first base.
Manager Bruce Bochy said Dunning's demotion was not a result of his performance -- he had a 2.84 ERA in 20 games since joining the Giants. He said the Giants needed a full bench and that Dunning would have been unavailable the next day or two after pitching on four consecutive days earlier this week.
"He did really a terrific job," Bochy said. "He came up ahead of schedule and I loved the way he handled himself and his poise."
Bochy praised Dunning's demeanor on the mound, particularly after allowing a grand slam to the Mets on July 9.
"Sure, you [pay attention to that]," Bochy said. "That moment, the next hitter, the next time he pitches -- it's all important for a young player.
"When you deal with something like that, the good ones put it behind them and he did a great job of that."
Andrew Owens is an associate reporter for MLB.com. Follow him on Twitter @OwensAndrew. This story was not subject to the approval of Major League Baseball or its clubs.