Giants seek identity as Trade Deadline nears
Giants seek identity as Trade Deadline nears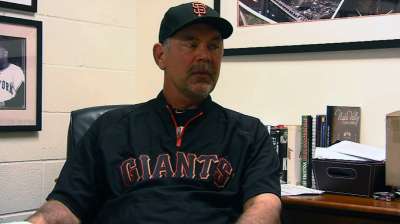 SAN FRANCISCO -- As Wednesday's non-waiver Trade Deadline approaches, Giants manager Bruce Bochy has been asked to assess the club's direction on a daily basis.
While the team outwardly has been noncommittal about buying or selling, Bochy said he has instructed his club, which began Friday seven games behind the first-place Dodgers, to ignore the rumors and distractions leading up to the Deadline.
"I think most clubs think about that," Bochy said. "I have talked to some of the guys. ... If they had a choice, they'd probably keep things where they are."
At 46-55 entering Friday, three teams lead the Giants in the National League West. Their 4.75 starters' ERA is the worst in the National League, the first time San Francisco has held that distinction since September 1991. On top of that, San Francisco's defense also ranks tied for last in the league, with a .981 fielding percentage (only the Angels are worse in all of baseball).
"What helps you win games is pitching and defense," Bochy said.
"We're all disappointed with where we're at. It's not something that can't be overcome. It's not so much where we're at as much as it is getting back to who we are as a club."
Andrew Owens is an associate reporter for MLB.com. Follow him on Twitter @OwensAndrew. This story was not subject to the approval of Major League Baseball or its clubs.