Giants not considering using Belt in left field
Giants not considering using Belt in left field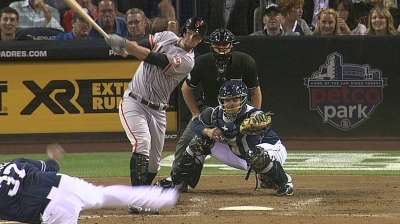 SAN FRANCISCO -- Collectively, Giants left fielders have been underperforming dramatically on offense. Yet manager Bruce Bochy politely nixed the suggestion of using Brandon Belt in left field to keep his bat in the lineup.
"We haven't been thinking of putting him in left," Bochy said Tuesday.
Belt, San Francisco's primary first baseman, typically sits on the bench when catcher Buster Posey makes his occasional starts at first, as was the case in the first game of Tuesday's doubleheader against Cincinnati.
But the numbers don't lie. Belt, who has started 35 games in left field during his three Major League seasons, has outperformed the Giants' left-field contingent in virtually every significant offensive category.
San Francisco's left fielders entered Tuesday ranked last among their National League counterparts in runs scored (38) and home runs (two), next-to-last in OPS (on-base plus slugging percentage, .678) and 11th in RBIs (34). The league averages in those categories, respectively, were 53, 13, .759 and 44. Giants left fielders were a respectable seventh in batting average (.272), exceeding the league average of .263.
Belt's statistics entering Tuesday suggested that he might be able to improve upon the team's left-field production, even if he plays there only occasionally. He ranked second on the club in runs (42) and OPS (.788), third in homers (10), fourth in RBIs (38) and fifth among qualifying players in batting average (.268).
Chris Haft is a reporter for MLB.com. Andrew Owens is an associate reporter for MLB.com. Follow him on Twitter @OwensAndrew. This story was not subject to the approval of Major League Baseball or its clubs.