Surkamp 'super-excited' to pitch in twin bill
Surkamp 'super-excited' to pitch in twin bill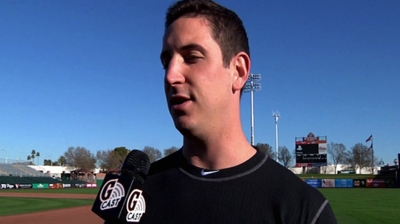 SAN FRANCISCO -- Eric Surkamp will observe the one-year anniversary of his Tommy John elbow surgery a day early.
As expected, Surkamp was summoned from Triple-A Fresno to start against the Cincinnati Reds in the first game of Tuesday's doubleheader. Under Major League Baseball rules, the Giants don't have to drop a player from the 25-man roster in this instance.
Surkamp, 26, has progressed smoothly and steadily since famed orthopedist Dr. James Andrews repaired his elbow last July 24. Surkamp began an injury rehabilitation assignment with Class A San Jose this year in early June and posted a 2.93 ERA in five appearances before ascending to Triple-A Fresno. There, Surkamp was 2-0 with a 4.79 ERA. His last two outings were rocky, demonstrated by his six walks in five innings July 11 at Sacramento and his six runs and 10 hits allowed in 4 2/3 innings last Thursday against Tacoma.
"Coming off surgery, you're going to have your ups and downs," Surkamp said Monday. "My arm is back to 100 percent, but repeating [the delivery] is still part of the process."
Surkamp started six games for the Giants toward the end of the 2011 season, posting a 2-2 record with a 5.74 ERA. The left-hander's elbow problems developed the following spring.
"I'm super-excited to be up here," he said. "It's been a long year. ... You can't really say it's just another game."
In fact, Surkamp's parents, John and Maureen, and his sister, Allison, are planning on attending his outing at AT&T Park.
A Cincinnati native, Surkamp coincidentally will be facing his hometown team. He rooted for the Reds and especially Ken Griffey Jr. "because he went to my high school [Moeller]." But Surkamp never patterned himself after any particular Reds pitcher, preferring to study Yankees lefty Andy Pettitte.
Chris Haft is a reporter for MLB.com. This story was not subject to the approval of Major League Baseball or its clubs.