Bochy shares thoughts on Braun's suspension
Bochy shares thoughts on Braun's suspension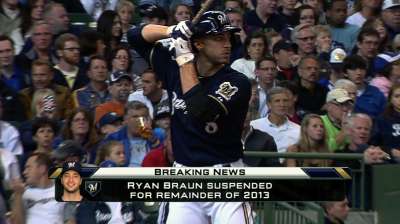 SAN FRANCISCO -- Giants manager Bruce Bochy, who lost two players to performance enhancing drug-related suspensions last year, regarded the penalty issued Monday to Milwaukee outfielder Ryan Braun as a positive development.
Braun, the 2011 National League Most Valuable Player who finished second to Giants catcher Buster Posey in last year's balloting for the award, was suspended for the rest of the season for violating Major League Baseball's Joint Drug Prevention and Treatment Program.
"I support MLB. We all do," Bochy said. "I think they're doing a great job of cleaning up baseball."
Last year, right-hander Guillermo Mota and left fielder Melky Cabrera received suspensions of 100 and 50 games, respectively, while performing for the Giants.
Such penalties, Bochy said are "important for the integrity of the game, for the kids who are coming up to play baseball. It's an important message to them and the fans. And for the players who do it right."
Asked if the Braun news surprised him, Bochy said, "There's always a little surprise. You'd like to think that with these guys getting tested, we'd stop seeing this. With that said, we've seen enough that have been caught, so I'm not surprised, either."
Chris Haft is a reporter for MLB.com. This story was not subject to the approval of Major League Baseball or its clubs.