Surkamp likely candidate to start in twin bill
Surkamp likely candidate to start in twin bill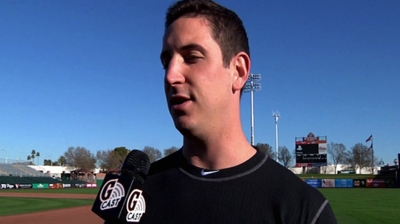 SAN FRANCISCO -- The Giants are expected to summon left-hander Eric Surkamp from Triple-A Fresno to start one of the games in Tuesday's doubleheader against the Cincinnati Reds.
Giants manager Bruce Bochy said after Sunday's 3-1 loss to the Arizona Diamondbacks that he wanted to discuss the issue further with his coaching staff before finalizing a decision. Left-hander Barry Zito will start the doubleheader's other game.
Surkamp made his most recent start last Thursday and will have received his regular four days of rest by Tuesday. By contrast, left-hander Mike Kickham, another candidate to get the start, pitched Saturday night and wouldn't have enough recovery time to face the Reds.
Surkamp, rated the No. 9 prospect within the organization by MLB.com, has progressed steadily since undergoing Tommy John elbow surgery last July 24. He's 2-0 with a 4.00 ERA in nine starts this year with Class A San Jose and Fresno. With Fresno only, Surkamp's 2-0 with a 4.79 ERA, a 1.65 WHIP (walks plus hits per inning pitched) and a .316 opponents' batting average in four starts.
Surkamp was a long-shot candidate for a spot in the Giants' starting rotation last year before his elbow problems materialized. He made six late-season starts for San Francisco in 2011, posting a 2-2 record and a 5.74 ERA.
A Cincinnati native, Surkamp would face his hometown team for the first time.
Chris Haft is a reporter for MLB.com. This story was not subject to the approval of Major League Baseball or its clubs.