Bochy sets rotation for second half
Bochy sets rotation for second half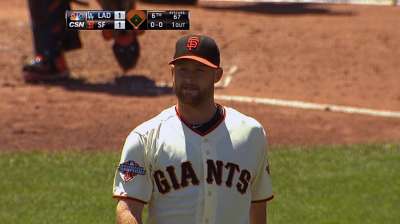 SAN DIEGO -- Right-hander Chad Gaudin will open the season's second half for the Giants, whose post-All-Star-break rotation was announced by manager Bruce Bochy after the club's 10-1 loss to the Padres.
Slated to pitch on Friday against Arizona, Gaudin will be followed by Matt Cain, Madison Bumgarner, Tim Lincecum and Barry Zito. Zito's start coincides with the July 23 doubleheader against the Reds that was forced by the July 4 postponement at Cincinnati.
The order of the rotation could change, depending on whether Bumgarner pitches for the National League in Tuesday's All-Star Game at New York's Citi Field. He might receive another day of rest in the unlikely event that he pitches multiple innings against the American League.
Chris Haft is a reporter for MLB.com. This story was not subject to the approval of Major League Baseball or its clubs.