Torrent of trivia accompanies Lincecum's no-no
Torrent of trivia accompanies Lincecum's no-no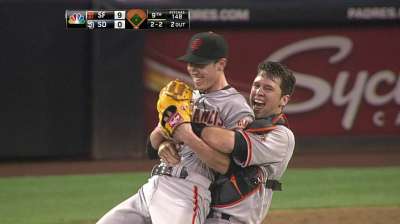 SAN DIEGO -- Tim Lincecum's no-hitter on Saturday night prompted an avalanche of fun facts and figures.
Following is a sampling:
• According to the Elias Sports Bureau, the last pitcher to accumulate as many walks (four) and strikeouts (13) in a no-hitter was Hall of Famer Nolan Ryan. "The Express" walked eight and struck out 15 for the Angels against the Twins on Sept. 28, 1974, in his third of seven no-hitters.
• Lincecum's no-hitter was the first by a Giant on the road since John Montefusco shut down Atlanta on Sept. 29, 1976.
• Lincecum joined three more Hall of Famers -- Bob Gibson, Sandy Koufax and Jim Palmer -- as the only pitchers to throw a no-hitter, win multiple Cy Young Awards and perform for a World Series winner.
• The Padres took their fourth no-hit defeat at home (Bud Smith, A.J. Burnett and Dock Ellis preceded Lincecum) and their first at Petco Park.
• San Francisco has scored at least eight runs in its last four no-hit victories. The final score in Montefusco's game was 9-0; Jonathan Sanchez's no-no over the Padres on July 10, 2009, was an 8-0 affair; and Matt Cain's perfect game against Houston on June 13, 2012, resulted in a 10-0 final.
• Lincecum was the losing pitcher when Cincinnati's Homer Bailey no-hit the Giants on July 2. According to Elias, the only other Major Leaguer to lose to an opponent's no-hit effort before throwing one himself was Brooklyn's Mal Eason in 1906.
Chris Haft is a reporter for MLB.com. This story was not subject to the approval of Major League Baseball or its clubs.