Bochy awaiting All-Star spot to add Romo
Bochy awaiting All-Star spot to add Romo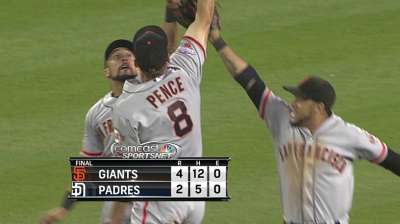 SAN DIEGO -- Accustomed to calling upon Sergio Romo in the ninth inning, Giants manager Bruce Bochy might find himself summoning his closer at a vastly different time in Tuesday's All-Star Game.
Bochy, who will manage the National League All-Stars, is responsible for finding enough pitching to consume 16 innings. This rule was devised in the wake of the 7-7 tie in the 2002 Midsummer Classic, when both teams ran out of available pitchers.
So Bochy has been contacting NL managers with pitchers on the All-Star squad to determine who might be able to participate in the game, and for how long.
Romo wasn't named to the pitching staff when All-Star rosters were initially released last Saturday, but Bochy expressed optimism that he'll find room for the right-hander. A handful of pitchers likely won't be able to perform in the All-Star Game because they're starting Sunday and their teams want to protect their health. Among the pitchers who either are appearing Sunday or enduring tender arms are St. Louis' Adam Wainwright, Pittsburgh's Jeff Locke, Chicago's Travis Wood and Washington's Jordan Zimmermann. Romo, who has 21 saves in 24 chances, likely would replace one of them.
Bochy said that he and Giants pitching coach Dave Righetti began discussing how extensively they want to use their own All-Star starter, left-hander Madison Bumgarner. Having pitched Thursday, Bumgarner would be well-rested for an inning or two of relief.
Chris Haft is a reporter for MLB.com. This story was not subject to the approval of Major League Baseball or its clubs.