Bochy mildly curious about Wilson's comeback
Bochy mildly curious about Wilson's comeback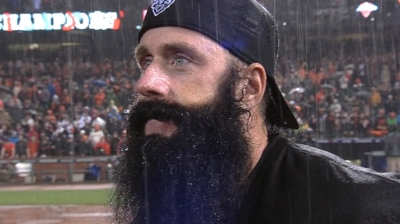 SAN DIEGO -- Reports that former Giants closer Brian Wilson soon may begin throwing for interested teams barely registered on Bruce Bochy's radar Friday. Still, the Giants manager sounded as if he'll monitor Wilson's ongoing saga.
"It's nothing I'll pay a lot of attention to," Bochy said, referring to Wilson's impending appearances for big league clubs. "But now that he's trying out, I think all of us will be curious because he was a teammate."
Wilson, who underwent Tommy John elbow surgery in April 2012 and became a free agent after last season, ranks third on the Giants' all-time saves list with 171, trailing only Robb Nen (206) and Rod Beck (199). Wilson and Beck share the club's single-season save record of 48, which they reached in 2010 and 1993, respectively.
Chris Haft is a reporter for MLB.com. This story was not subject to the approval of Major League Baseball or its clubs.