Giants option reliever Kickham to Triple-A Fresno
Giants option reliever Kickham to Triple-A Fresno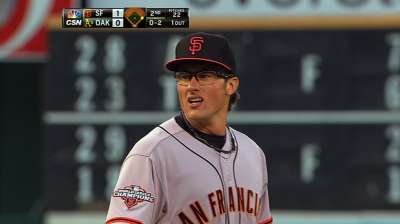 SAN FRANCISCO -- Following the Giants' 7-2 loss to the Mets on Wednesday, the club optioned left-hander Mike Kickham to Triple-A Fresno. No corresponding move was announced.
Kickham pitched 5 1/3 innings of long relief after starter Matt Cain went just two-thirds of an inning in the shortest outing of his career. Kickham allowed four runs on five hits while walking three and striking out six.
"I've been making small adjustments and I think that's helped," Kickham said. "I'm just trying to keep building and learn as much as I can and take something from all of my appearances."
Kickham acknowledged that the changeup Marlon Byrd slugged for a home run shows that there is "still a lot of work to be done."
Manager Bruce Bochy complimented Kickham on saving the bullpen from being taxed too much this week.
"He threw real well [Wednesday] and got some pitches up in the last couple innings," Bochy said. "He's getting better and better and is using all his pitches well."
Andrew Owens is an associate reporter for MLB.com. Follow him on Twitter @OwensAndrew. This story was not subject to the approval of Major League Baseball or its clubs.