Bochy getting first look at former prospect Wheeler
Bochy getting first look at former prospect Wheeler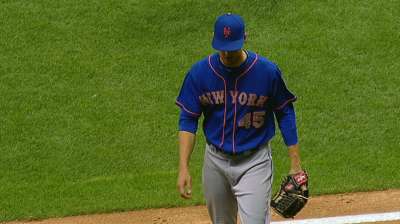 SAN FRANCISCO -- Wednesday not only gave Giants fans their first glimpse at what the club's former first-round selection Zack Wheeler could have done at AT&T Park, but it also marked the first time Giants manager Bruce Bochy would see the rookie in action.
Wheeler, whom the Giants dealt for Carlos Beltran in 2011, is ranked as the sixth-best prospect in baseball by MLB.com.
"I haven't seen him pitch yet," Bochy said before the game. "I've seen video. He was in A-ball when that trade was made so I haven't seen him."
Wheeler entered the game with a 2-1 record and 4.29 ERA in four starts with the Mets this season.
"He's got a power arm," Bochy said. "It's a real good, live arm. A lot of life in it. It's one of the fastballs that looks like it has another gear on its way to home."
Andrew Owens is an associate reporter for MLB.com. Follow him on Twitter @OwensAndrew. This story was not subject to the approval of Major League Baseball or its clubs.