Giants sign veteran Francoeur to play left field
Giants sign veteran Francoeur to play left field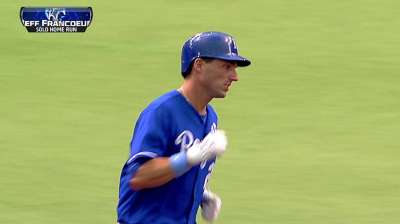 SAN FRANCISCO -- The Giants signed outfielder Jeff Francoeur to a Minor League contract Tuesday and are hoping he can add some punch to their slumping lineup.
The Royals released Franceour on Sunday after the club designated him for assignment June 30. The outfielder was hitting .208 with a .249 on-base percentage after posting .235 and .287 marks, respectively, in 2012.
"He has a history of outfield duty and has done some good things with the bat," manager Bruce Bochy said.
With outfielder Hunter Pence firmly entrenched in right field, San Francisco is hoping Francoeur can assist with its void in left field, where he has played just twice in his career.
Bochy said Francoeur would be with Triple-A Fresno in time for its game Tuesday night. The plan is for the outfielder to play a few games and then "hopefully help out our outfield situation, where I think we can use some help," Bochy said.
Since he debuted with Atlanta in 2005, Franceour's power and throwing arm in right field have typically been his strengths but, of late, his ability to drive the ball has been diminished. His home run totals dropped from 20 in 2011 to 16 last year before falling off the map in 2013, with three.
He posted a 2.6 WAR (wins above replacement player) in his 2011 debut season with the Royals, but that number plummeted to -1.4 in 2012, according to FanGraphs. Only teammate Eric Hosmer and Rangers infielder Michael Young were worse in all of baseball.
Bochy compared the move to when the Giants signed Pat Burrell during their 2010 World Series season. Burrell hit .202 with a .292 on-base percentage, two home runs and 13 RBIs in 24 games with the Rays before San Francisco added him. He compiled a .364 on-base mark with 18 home runs and 51 RBIs in 96 games with the Giants and started in each postseason game that October.
Andrew Owens is an associate reporter for MLB.com. Follow him on Twitter @OwensAndrew. This story was not subject to the approval of Major League Baseball or its clubs.