Epic NLDS at-bat vs. Romo stays with Bruce
Epic NLDS at-bat vs. Romo stays with Bruce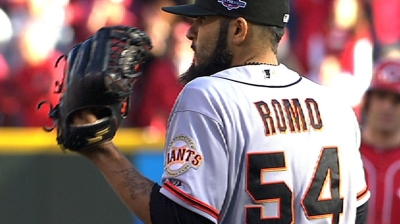 CINCINNATI -- Giants right-hander Sergio Romo has frequently cited how his 12-pitch encounter with Jay Bruce in Game 5 of last year's National League Division Series bolstered his confidence. Bruce, Cincinnati's slugging right fielder, represented the potential winning run with two on and one out but flied out to left field. One out later, the Giants had a 6-4 victory that advanced them to the NL Championship Series.
That helped shape Romo's identity as a budding closer.
What did it do for Bruce?
For starters, it didn't wreck him.
"It's another experience that I'm going to have to look back on," Bruce said Monday, maintaining perspective. "It wasn't a good one at the time, but it's part of it all."
Just as Romo drew inner strength from his confrontation with Bruce, the two-time All-Star viewed the experience as one that ultimately can help his performance.
"The focus I had that at-bat was something that I try to replicate for each at-bat," Bruce said. "That's something that I've been working on this year. I don't think it necessarily goes back to that at-bat, but the continued focus through the extent of the game is something that I've really put a premium on this year."
Chris Haft is a reporter for MLB.com. This story was not subject to the approval of Major League Baseball or its clubs.