Vogelsong clears hurdle with first throwing session
Vogelsong clears hurdle with first throwing session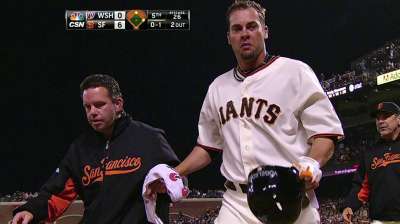 CINCINNATI -- Giants right-hander Ryan Vogelsong began a new phase Monday in his recovery from a fractured right pinkie by throwing for the first time since sustaining the injury on May 20.
"It was a good hurdle to climb today," said Vogelsong, who played catch on flat ground with Giants head athletic trainer Dave Groeschner.
Vogelsong unleashed about 30 throws, half at a 40-foot distance and half from 60 to 65 feet.
Vogelsong, who's still expected to be sidelined at least until August, felt a little weakness in his throwing hand but no pain.
"I felt like I was getting out in front and the ball was coming off my fingertips," he said.
Vogelsong's wasting little time in his bid to rejoin the starting rotation. He plans on throwing again Tuesday, clearly relieved to be doing what he does for a living once more, albeit at a rudimentary stage.
"When you're dealing with rehab, it's always good to hit a goal or the next step of the process," Vogelsong said.
For Vogelsong, that will be throwing off a mound once he regains enough arm strength.
Chris Haft is a reporter for MLB.com. This story was not subject to the approval of Major League Baseball or its clubs.