Belt showing power but has room to grow
Belt showing power but has room to grow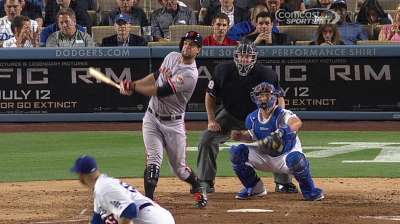 LOS ANGELES -- With eight home runs, Giants first baseman Brandon Belt already has eclipsed his 2012 total of seven. But other numbers illustrate manager Bruce Bochy's opinion that Belt still has ample room for improvement.
In some respects, Belt has accomplished plenty. Besides appearing destined to surpass his personal high of nine homers in 2011, Belt has overcome his early-season doldrums by lifting his batting average to .264 entering Wednesday. He didn't clear the .200 mark for good until April 23 and was hitting .214 as late as May 6.
"From where he started and where he is, it's very encouraging," Bochy said.
But Bochy pointed out that Belt's tendency to perform better against left-handed pitchers, which is unusual for a left-handed batter, mutes his performance. The reason is simple: More right-handed pitchers exist. Belt is hitting .327 (17-for-52) off lefties, compared with .247 (47-for-190) against righties.
Chris Haft is a reporter for MLB.com. This story was not subject to the approval of Major League Baseball or its clubs.