Kickham to remain in rotation, face Reds next
Kickham to remain in rotation, face Reds next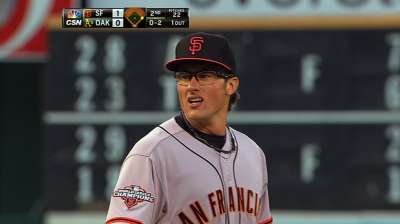 LOS ANGELES -- Left-hander Mike Kickham showed enough improvement Tuesday night to earn his third Major League start, which will be Monday's series opener at Cincinnati.
Kickham allowed six runs (five earned) and eight hits in 5 1/3 innings against the Los Angeles Dodgers. That left him with an 0-2 record and a 10.57 ERA. But Kickham's encore appearance outclassed his Major League debut May 28 at Oakland, where he yielded four runs and four hits while walking four in 2 1/3 innings.
Pitching at Cincinnati's Great American Ball Park, which significantly favors hitters, likely will present a challenge for Kickham. Assuming the 24-year-old remains in the rotation, he'll probably savor his following start, his first home outing, at pitcher-friendly AT&T Park on July 6.
Chris Haft is a reporter for MLB.com. This story was not subject to the approval of Major League Baseball or its clubs.