Center fielder Blanco just wants to contribute
Center fielder Blanco just wants to contribute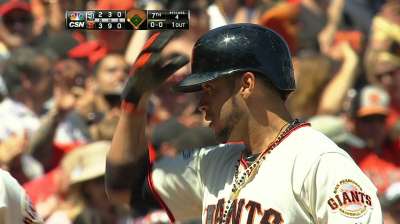 LOS ANGELES -- Gregor Blanco will remain the Giants' regular center fielder for possibly the rest of the season, due to Angel Pagan's left hamstring injury that required surgery Tuesday. But Blanco refuses to take his status for granted.
"I'm just trying to help the team every day," Blanco said Tuesday. "I'm not going to worry about my playing time. I'm just going to worry about helping my teammates win ballgames. If the manager puts me in every day, I'll be ready. If he doesn't, I'll be ready, too. I'm just enjoying every single game I get to play with these guys."
Though Blanco has ably filled Pagan's role, Giants general manager Brian Sabean pointed out that the club is weakened overall. If Pagan were healthy, Blanco likely would be receiving the bulk of the playing time in left field, Andres Torres would be a fourth outfielder and the Giants would possess more depth.
Nevertheless, Sabean praised Blanco's performance. Blanco entered Tuesday ranked sixth in on-base percentage (.354) among National League center fielders with enough plate appearances to qualify for the batting title. Sabean also cited contemporary metrics such as zone rating and runs saved to quantify Blanco's success.
"I think he's done a hell of a job," Sabean said.
Chris Haft is a reporter for MLB.com. This story was not subject to the approval of Major League Baseball or its clubs.