Belt starting to heat up at the plate
Belt starting to heat up at the plate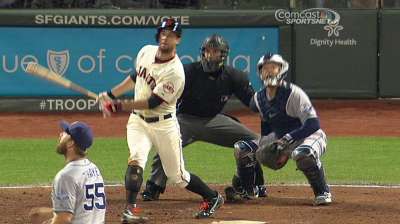 SAN FRANCISCO -- Giants first baseman Brandon Belt is known for his fine defense but, in the absence of much of the lineup's clout lately, he has found his swing as well.
Belt went 3-for-4 in Tuesday's 5-4 win and ripped a double off the right-field wall on a 2-0 fastball that scored the game-tying run.
"I try to stay as relaxed as possible [in late-game situations] and let my hands do the work," said Belt, who has raised his batting average to a season-high .264 entering Wednesday's game with seven hits in his last three games. "If you get tense, you take yourself out of it.
"In that [eighth] inning, it was nice. It seems like a while since we've done that."
Andrew Owens is an associate reporter for MLB.com. This story was not subject to the approval of Major League Baseball or its clubs.