Giants waiting for lineup to return to full strength
Giants waiting for lineup to return to full strength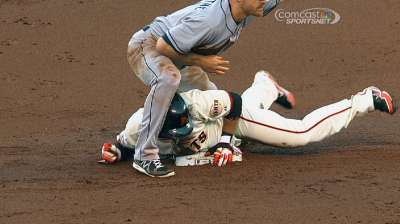 SAN FRANCISCO -- The Giants could see their regular lineup in action, possibly as early as Monday when they begin a three-game series in Los Angeles.
Manager Bruce Bochy announced that outfielder Angel Pagan, who has been out since May 25 with a strained left hamstring, will begin a rehab assignment Thursday with Single-A San Jose. He'll play five innings then and seven Friday.
"We'll see where he's at with his bat and if he looks comfortable and thinks he's ready, he could join us at the end of this homestand," Bochy said. "If he needs more time, we'll give him more time. It's all about how his leg feels and how he's swinging the bat."
Pablo Sandoval, who was out of the lineup Wednesday for the 10th straight game with a strained left foot, will begin his rehab assignment with San Jose on Saturday, where he will either be the designated hitter or play five innings at third base. On Sunday, he will play five innings.
"If all goes well, he'll join us for the flight down to L.A. Sunday night," Bochy said.
Brandon Crawford was out of Wednesday's lineup after spraining his right index and middle fingers and Bochy said he's doubtful for Thursday's series opener against the Marlins, although he was available today to pinch-run and bunt.
"They're two pretty important fingers," said Crawford, who initially tried to stay in Tuesday's game after the injury.
Crawford said the play at second base won't dissuade him from sliding headfirst in the future.
"I've slid headfirst on steals my whole life and that's the first time I've done that," he said.
Setup man Santiago Casilla, who has been out since May 20 after having a cyst removed from his right knee, is also improving and could rejoin the club in a few weeks.
"He's doing well," Bochy said. "He'll throw a light [bullpen] tomorrow, a full one Saturday and could throw to hitters Monday."
Bochy said the team will evaluate Casilla next Wednesday and the reliever, who has posted a 1.89 ERA in 21 games this season, could begin his rehab assignment in 10-12 days.
Andrew Owens is an associate reporter for MLB.com. This story was not subject to the approval of Major League Baseball or its clubs.