Bochy capitalizing on roster's defensive versatility
Bochy capitalizing on roster's defensive versatility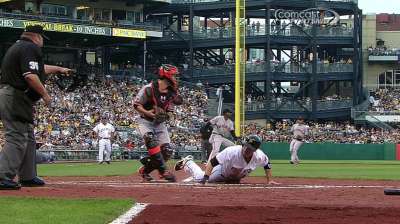 SAN FRANCISCO -- Joaquin Arias and Tony Abreu both found themselves in unfamiliar positions on Wednesday, with Arias starting at shortstop and earning just the seventh start in the No. 5 spot in his career, and Abreu starting at third base for the first time this season.
"I've said this going into the season, a player like Arias is so valuable because you can put him anywhere," Giants manager Bruce Bochy said. "He's a good fielder, a good shortstop so it's good to have that luxury of having a guy that versatile so gifted defensively.
"[Abreu] has played a lot of third base [in the past]. He's been taking ground balls there, so hopefully we get some good defense from him. He's another guy who's valuable because he can play anywhere on the infield, just like [Nick] Noonan."
Arias, Abreu and Noonan have offered Bochy flexibility in recent weeks with injuries to Marco Scutaro, Pablo Sandoval and, most recently, Brandon Crawford.
Andrew Owens is an associate reporter for MLB.com. This story was not subject to the approval of Major League Baseball or its clubs.