Dunning adjusting in first taste of big leagues
Dunning adjusting in first taste of big leagues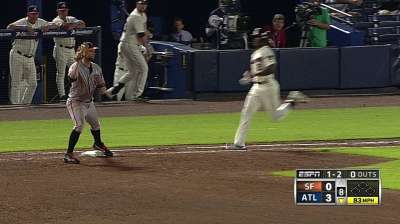 SAN FRANCISCO -- Since Jake Dunning called his parents in the early hours Thursday morning to share the news he was headed to Pittsburgh to join the Giants, it's been an eventful few days.
Ten family members and friends saw Dunning debut Sunday in Atlanta, which is a five-hour drive from the family's home in Jacksonville, Fla.
Dunning, who said he was more of a Marlins fan than Braves fan growing up, allowed a double in a scoreless inning Sunday.
"It's a little different [in the Majors]," Dunning said. "It's the same game, it's just a little fierce now. I just have to keep the ball down and get a ground ball or something."
Dunning made his AT&T Park debut in the 13th inning of Monday's 5-3 loss. He entered the game after the Padres loaded the bases against Jose Mijares. Dunning walked home a run and recorded two outs.
"[It's a] small sample, but he came out and threw strikes in Atlanta," manager Bruce Bochy said. "We put him in a tough spot last night, but he controlled the damage. Sure, he walked in a run, but he settled down and got a big out."
Andrew Owens is an associate reporter for MLB.com. Follow him on Twitter @OwensAndrew. Chris Haft is a reporter for MLB.com. This story was not subject to the approval of Major League Baseball or its clubs.