Crawford surprised to bat third for Giants
Crawford surprised to bat third for Giants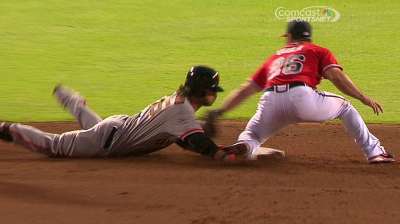 SAN FRANCISCO -- When Brandon Crawford arrived at AT&T Park for Monday's game against the Padres, he found himself penciled into the No. 3 slot of the lineup for the first time this season as the Giants battle injuries and Buster Posey was given a day off.
"Crawford asked me the same thing," Giants manager Bruce Bochy replied when asked why the shortstop was batting third Monday. "Maybe I got into the wine too much last night."
For Crawford, it's the seventh different place in the lineup he's batted at this season, with leadoff and cleanup the only exceptions. In seven at-bats batting fifth, another middle-of-the-order slot, Crawford has recorded five hits, including two doubles and a home run.
"It's pretty much the same approach as hitting second, except maybe with more guys on," Crawford said.
Crawford's .288 batting average ranks fifth among San Francisco regulars, but only Hunter Pence's .297 topped him among players in Monday's starting lineup.
"It's tough," said Crawford about replacing the injured Giants. "These guys that are out are huge pieces of our lineup, but we've done it before. We did it last year."
Andrew Owens is an associate reporter for MLB.com. Follow him on Twitter @OwensAndrew. This story was not subject to the approval of Major League Baseball or its clubs.