Draft pick Jones gets taste of big leagues
Draft pick Jones gets taste of big leagues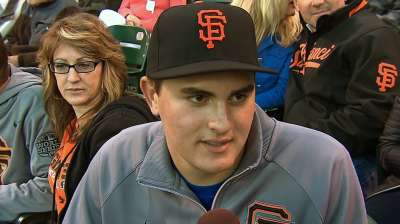 SAN FRANCISCO -- Monday marked Giants second-round Draft pick Ryder Jones' first trip to AT&T Park, but it was by no means his first exposure to the organization.
The Watauga (N.C.) High School product said he grew up a Giants fan because his grandparents, including a grandfather that recently died of cancer, were Giants fans while living in Northern California.
Jones, who was committed to Stanford before deciding to sign with the Giants, will transition from third base to shortstop when he begins his Minor League assignment.
"It's going to take some getting used to, for sure," Jones said. "I'm definitely going to take some extra ground balls."
Jones, who has signed with the Giants and passed his physical, said he experienced a thrill Monday when he chatted with former Giants legend Willie McCovey and current outfielder Hunter Pence.
"I had never met a Hall of Famer before," Jones said. "Just hearing his insight, it was surreal.
"And Hunter was also a second-round pick, so he talked about his knowledge of the Minor League system and the work ethic it takes to get to the big leagues."
Andrew Owens is an associate reporter for MLB.com. Follow him on Twitter @OwensAndrew. This story was not subject to the approval of Major League Baseball or its clubs.