Pagan eschews surgery, hopes to return soon
Pagan eschews surgery, hopes to return soon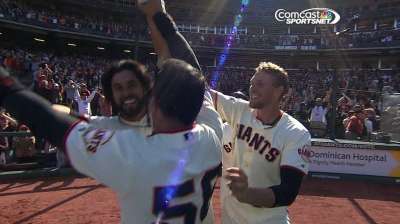 ATLANTA -- Though Angel Pagan acknowledged Sunday that surgery was mentioned as an option for fixing his strained left hamstring, the Giants center fielder and leadoff hitter continued to believe that he can heal sufficiently and rejoin the lineup in the relatively near future.
He's not sure exactly when that might be.
"I'm very optimistic that I'm going to be in the lineup soon," Pagan said. "When? I don't know."
Pagan must prove beyond a doubt that he's ready to play. Slowly regaining his mobility while participating in baseball-related activities for the past week, Pagan probably will need 10 to 15 at-bats in a Minor League injury rehabilitation assignment before he's reinstated from the 15-day disabled list, manager Bruce Bochy said.
It was no surprise that Pagan rejected surgery, which could sideline him for more than a month and probably longer. Asked if surgery was no longer being considered for Pagan, Bochy said, "I don't know if it ever comes off the table until the player is playing again. Right now he's doing well with the treatment that he's gotten."
Pagan revealed that he received a platelet-rich plasma shot last week in Phoenix as a means of possibly accelerating the healing process.
The 31-year-old Pagan, who signed a four-year, $40 million contract with the Giants in the offseason, has not played since May 25, when he hit a game-winning, inside-the-park home run against Colorado at AT&T Park.
He said that his hamstring hurts most where it meets the bone at the side of the knee.
Chris Haft is a reporter for MLB.com. This story was not subject to the approval of Major League Baseball or its clubs.