Posey's time at first base expected to increase
Posey's time at first base expected to increase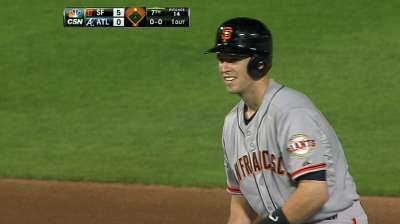 ATLANTA -- Buster Posey started only his fourth game at first base Saturday, though he's likely to find himself at that spot more frequently in coming weeks.
Manager Bruce Bochy has used Posey at first base to keep his bat in the lineup while sparing him from the physical rigors of catching. Posey played first at a more frequent rate last year, starting 29 games there. Bochy explained that the number of scheduled off-days -- three in April and May, and four in June with one more remaining -- have provided built-in rests for Posey.
But the nature of San Francisco's schedule is in the midst of changing. The Giants launched a stretch of 33 games in 34 days on June 11. From July 30 through Aug. 28, they'll play 29 times in 30 days, barring rainouts.
"I think you'll see him go to first more, now that we have more stretches without days off," Bochy said.
In another Posey-related development, the Elias Sports Bureau discovered that his three-double performance in Friday's series opener made him the first Giant to amass three extra-base hits on two-strike counts since Barry Bonds did so on June 16, 2000 at Houston. It also marked Posey's first time to amass that many extra-base hits in a game.
Chris Haft is a reporter for MLB.com. This story was not subject to the approval of Major League Baseball or its clubs.