Giants shuffle roster again, recall Sanchez, Dunning
Giants shuffle roster again, recall Sanchez, Dunning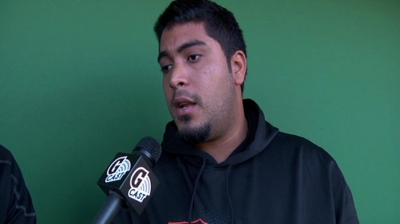 PITTSBURGH -- Continuing to tweak their roster, the Giants recalled catcher Hector Sanchez and right-hander Jake Dunning from Triple-A Fresno on Thursday.
As corresponding moves, San Francisco optioned first baseman Brett Pill to Fresno and designed right-hander Ramon Ramirez for assignment.
This marked the fourth time in five playing dates, including the third day in a row, that the Giants announced pregame personnel moves. Some were prompted by injuries, such as those sustained by Pablo Sandoval (which led to Nick Noonan's return) and Angel Pagan (which made Juan Perez's debut possible).
Others were perceived upgrades, such as Thursday's.
Manager Bruce Bochy said that the switch-hitting Sanchez would be a better fit to bring off the bench than Pill. Sanchez, who was on San Francisco's Opening Day roster, hit .320 with a .370 on-base percentage and a .460 slugging percentage in 19 games for Fresno.
Bochy said that Fresno manager Bob Mariano assured him that Sanchez also is more physically able to catch than he was earlier this season, when he was bothered by a shoulder injury.
In his second stint with the Giants, Pill was batting .154 (4-for-26) in 13 games. He received his second recall on May 21, when he was leading the Pacific Coast League with 47 RBIs. Pill also spent May 14-17 with San Francisco.
Ramirez owned an 11.12 ERA, having surrendered runs in five of six outings since San Francisco purchased his contract on May 29.
"It's fair to say Ramon's been struggling," Bochy said. "So it's time for a change there and get some more help up here in the bullpen."
Bochy envisions Dunning as a middle-inning reliever. The 24-year-old Spring Training invitee was 1-2 with a 1.75 ERA in 23 relief outings for Fresno. In 36 innings, he struck out 31, allowed 38 hits and walked 10. That gave him a WHIP (walks and hits per inning pitched) of 1.33. He'll make his Major League debut with his first Giants appearance.
Chris Haft is a reporter for MLB.com. This story was not subject to the approval of Major League Baseball or its clubs.