Pagan likely to remain on DL past activation date
Pagan likely to remain on DL past activation date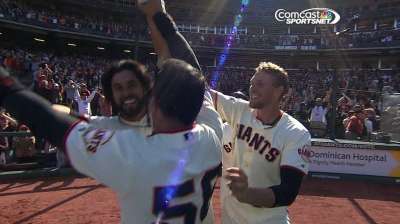 PITTSBURGH -- Giants center fielder Angel Pagan is likely to remain on the disabled list past Wednesday, when he becomes eligible for reinstatement.
Pagan, who has been sidelined with a strained left hamstring, has not performed baseball-related activities since last week.
"I would say yeah, to be honest, he's probably going to need a few more days," manager Bruce Bochy said. "It's hard to say how many. But I don't see him coming off [the DL on] Wednesday."
Entering Tuesday, the Giants were 5-6 during the absence of Pagan, who's hitting .262 with 30 runs scored and six stolen bases in 46 games.
Chris Haft is a reporter for MLB.com. This story was not subject to the approval of Major League Baseball or its clubs.