Sandoval may need DL stint to rest ailing foot
Sandoval may need DL stint to rest ailing foot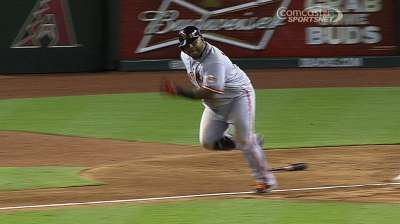 PHOENIX -- Manager Bruce Bochy acknowledged that the Giants are considering a stint on the 15-day disabled list for third baseman Pablo Sandoval, who's been bothered by a strained left foot.
Sandoval didn't play Sunday, one day after he aggravated the injury that he originally incurred May 30. Sandoval underwent an MRI, his second since being hurt.
"The MRI didn't show any other damage, but he's pretty sore," Bochy said.
Asked whether he, Giants general manager Brian Sabean and the club's medical staff might consider a DL assignment for Sandoval, Bochy said, "It's a possibility. I'll be honest. We need to get this [injury] to calm down. Sometimes you get an injury like this and you try to get through it and you just make it worse and you end up losing the player for a longer period of time."
Sandoval offered no insight into his condition. "I don't know. I'm not a trainer," he said dryly.
Having spent time on the disabled list during each of the previous two seasons with hamate bone injuries -- besides a second-half trip to the DL last year with a strained left hamstring -- Sandoval turned somewhat philosophical when he considered the possibility of being sidelined again.
"It happens," he said. "I've been through this situation. ... You want to try to be healthy but something's going to happen. It's part of the game. You have to keep focused and positive to get better every day."
Sandoval, who leads the National League All-Star fan voting at his position, is batting .289 with a team-high 37 RBIs in 57 games.
Chris Haft is a reporter for MLB.com. This story was not subject to the approval of Major League Baseball or its clubs.