Bochy gets tossed after disputed call at third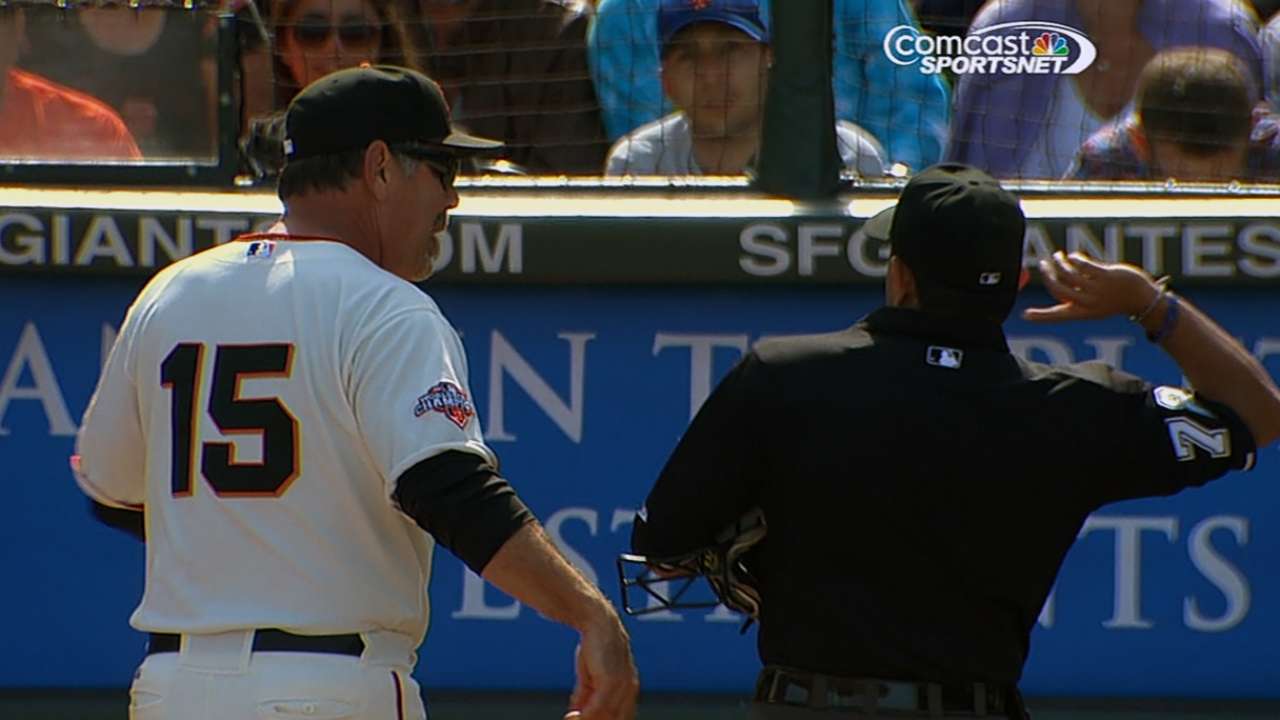 SAN FRANCISCO -- An umpire's call that doused a Giants rally in the eighth inning resulted in manager Bruce Bochy's second ejection of the year in Saturday's game against the Colorado Rockies.
With one out, Marco Scutaro at first base and the score tied, 4-4, Pablo Sandoval blooped a single to left-center field. Rockies left fielder Carlos Gonzalez grabbed the ball and threw it to third base, where umpire Alfonso Marquez, who moved from home plate, called Scutaro out.
"That's how he saw it; that's not how I saw it," Bochy said after the Giants rallied to win in 10 innings on Angel Pagan's inside-the-park, walk-off homer. "You can't assume the tag."
Giants third-base coach Tim Flannery and Scutaro vehemently protested the call. Television replays indicated that Rockies third baseman Nolan Arenado missed his attempted tag on Scutaro.
Bochy quickly left the dugout to continue the argument with Marquez. As Marquez returned beind the plate, Bochy paced with him along the third-base line, jawing and gesticulating with each step. Marquez finally tossed Bochy shortly after they reached the home-plate area.
Marquez also made a seventh-inning call that blunted another Giants threat. With runners on second and third and the infield playing in, Brandon Crawford tapped a grounder to second baseman DJ LeMahieu, who threw home. Television replays indicated that Brandon Belt, sliding feet-first, appeared to poke his left leg between Yorvit Torrealba's ankles and scrape home plate before the catcher applied the tag. But Marquez ruled that Belt was out, preserving the 4-4 tie.
Bochy admitted that he couldn't see that play clearly. But, he noted, it underscored the need for video replay on plays at the plate.
"You're going to have calls that you don't agree with or may not be correct," Bochy said. "There's not a lot you can do about it. [The umpires are] human and they're trying to get it right. I know that. But still, it's such a competitive situation, especially in a game like this, where you have some critical calls. You just hope to overcome them. That's what we did."
Chris Haft is a reporter for MLB.com. This story was not subject to the approval of Major League Baseball or its clubs.