Eager Vogelsong tasked with taking rehab slow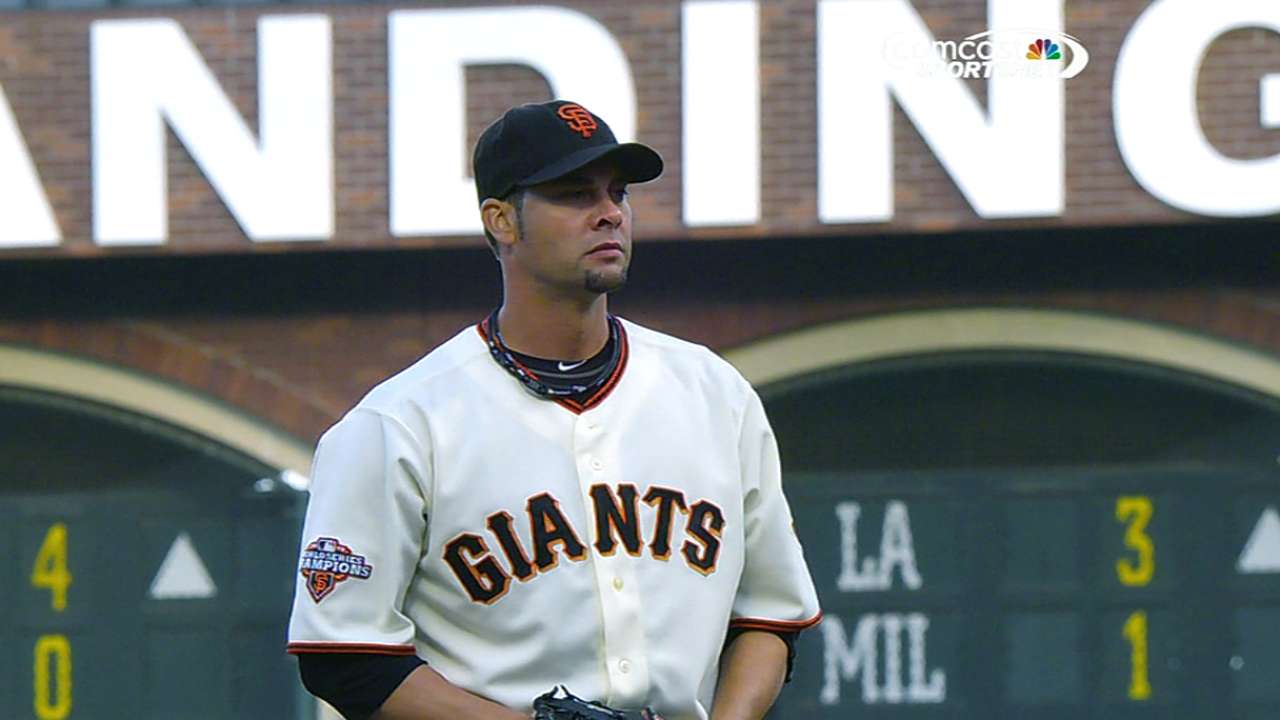 SAN FRANCISCO -- Tell Ryan Vogelsong to spend 30 minutes on an exercise bicycle, and he'll pedal away for an hour. He's the guy who competes with himself on weight machines by adding five or 10 pounds to what he lifted in his previous workout.
So as Vogelsong begins recovering from his fractured right hand, he knows that he might spend more energy trying to control his rehabilitation efforts than actually performing the exercises themselves.
"That's just my nature. I always want to do a little bit more, probably a little bit more than I should at times," Vogelsong said Wednesday, two days after a pitch from Washington's Craig Stammen struck him on his pitching hand. "I'm going to have to be smart and listen to [doctors and trainers]. Obviously they know a lot more about this stuff than I do. You have to give yourself a chance to heal."
Addressing reporters for the first time since undergoing surgery Tuesday, Vogelsong observed that, as a habitual viewer of baseball telecasts, he knew Stammen likes throwing his two-seam fastball. So Vogelsong was eager when Stammen threw it for the first pitch of his at-bat in the bottom of the fifth inning.
"I saw it where I was looking for it, and I swung and it kind of kept coming in on me," Vogelsong said. "I probably would have been better off if I didn't watch baseball all the time."
Vogelsong said that a detailed rehab schedule has yet to be planned, though he already knows that maintaining strength in his shoulder will be essential if he wants to recover within the six- to eight-week estimate.
He acknowledged that the mental aspect of his recovery could prove more challenging than the physical element.
"I still don't think it's really set in yet," Vogelsong said. "I think it'll sink in once I start missing starts. The thing that can help the most is that the team keeps playing well."
Vogelsong, whose right arm was in a sling to provide comfort and to protect the surgically repaired area in case people bump into him, said he'll continue to suit up for games and accompany the team on trips.
"I can bring some things to the table even though I'm not on the field," said Vogelsong, one of the most respected Giants.
Chris Haft is a reporter for MLB.com. This story was not subject to the approval of Major League Baseball or its clubs.