Giants mulling replacement for Vogelsong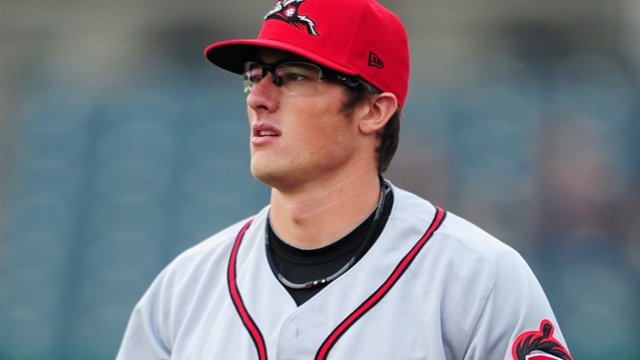 SAN FRANCISCO -- Giants manager Bruce Bochy said that he and the club's braintrust are "weighing all the options" regarding who will replace the injured Ryan Vogelsong in the starting rotation.
Currently, there's no urgency to name a fill-in for Vogelsong, who sustained two fractures and a dislocated joint in his right pinkie when Washington's Craig Stammen hit him with a pitch that he swung at Monday night. Due to Thursday's scheduled off-day, the Giants won't need a fifth starter until next Tuesday's Interleague game at Oakland.
The simplest move would be to move Chad Gaudin from the bullpen to the rotation. The right-hander has made 75 Major League starts and possesses more durability than the average reliever, having pitched three innings or more twice and working between two and three innings seven times. He entered Tuesday with an 0-1 record and a 2.10 ERA in 14 appearances.
Three candidates exist at Triple-A Fresno: Mike Kickham (2-4, 4.72 ERA), Chris Heston (5-3, 5.59) and Shane Loux (4-1, 3.68).
Ranked 12th by MLB.com on the list of top Giants prospects, the 24-year-old Kickham has won his last two starts, yielding two earned runs in 11 innings during that span. In 47 2/3 innings, the left-hander has struck out 50 batters but has walked 19.
Heston, San Francisco's No. 8 prospect according to MLB.com, has 50 strikeouts in 56 1/3 innings. Two starts ago he surrendered three hits in seven shutout innings against New Orleans but was roughed up Tuesday, when Oklahoma City tagged him for five runs and seven hits in 5 2/3 innings.
Loux, who's beginning his 17th professional season, was primarily a starter in Triple-A from 2010-11 before returning to the bullpen last year. His 2012 campaign included a 19-game relief stint with San Francisco, during which he went 1-0 with a 4.97 ERA.
Chris Haft is a reporter for MLB.com. This story was not subject to the approval of Major League Baseball or its clubs.