Vogelsong, Casilla to DL; Pill, Rosario up
Starter to miss 6-8 weeks with fractured finger, while reliever has balky knee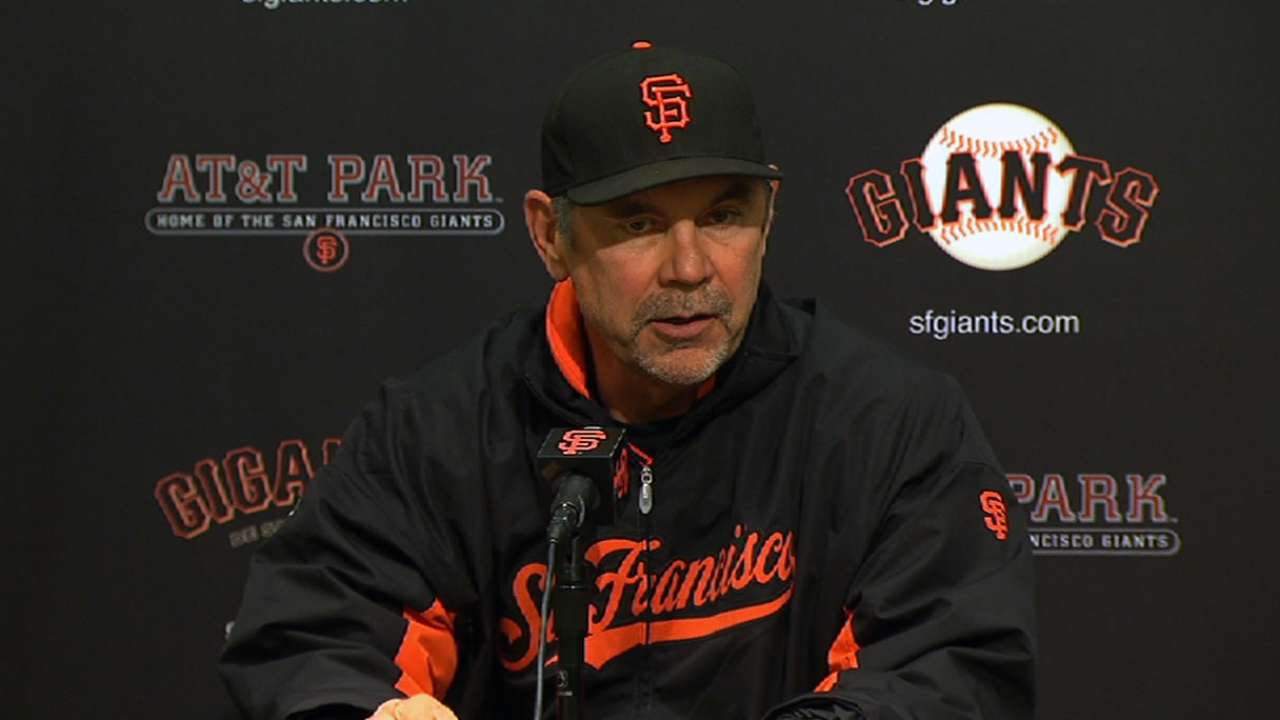 SAN FRANCISCO -- The likely timetable for Ryan Vogelsong's recovery from his fractured pitching hand grew to six to eight weeks, Giants manager Bruce Bochy said Tuesday after the right-hander underwent surgery at Stanford Hospital.
"It could be a little bit sooner," Bochy said, clinging to hope for Vogelsong to heal more quickly. Vogelsong sustained two fractures and a dislocated joint in his right pinkie when he was hit by a pitch from Washington's Craig Stammen on Monday night.
Bochy said that Vogelsong visited the Giants clubhouse after his surgery, which was performed by Dr. Tim McAdams.
"He wasn't here very long," Bochy said. "He was pretty tired."
Vogelsong and right-hander Santiago Casilla went on the 15-day disabled list and were replaced on the active roster by right-hander Sandy Rosario and first baseman Brett Pill, who were recalled from Triple-A Fresno.
Casilla pitched a scoreless eighth inning in Monday's 8-0 victory over Washington, but aggravated a right knee injury caused by a cyst. Bochy said that the setup man will consult a specialist Wednesday to receive advice on treating his knee. Casilla has tried wearing a brace but still felt uncomfortable.
"What happens is you start throwing with all arm [and risk injury]," Bochy said, explaining Casilla's predicament. Bochy did not rule out surgery as an option for Casilla, who was 3-2 with a 1.89 ERA and one save in 21 games. Casilla signed a three-year, $15 million contract during the offseason.
The moves trimmed the pitching staff to 12. The Giants may opt to add another pitcher closer to next Tuesday, when they'll first need a fifth starter to replace Vogelsong.
Pill went 2-for-6, both hits doubles, in a recent stint with the Giants. He has tattooed Triple-A pitching, batting .365 with nine home runs and 47 RBIs in 35 games.
Rosario picked up his first Major League victory April 30 at Arizona in his only appearance during a four-day callup. Bochy said that Rosario's capability for pitching multiple innings enhanced his value.
Chris Haft is a reporter for MLB.com. This story was not subject to the approval of Major League Baseball or its clubs.