Mother's Day pink bats serve Giants well
Sandoval leads those using special lumber with homer, single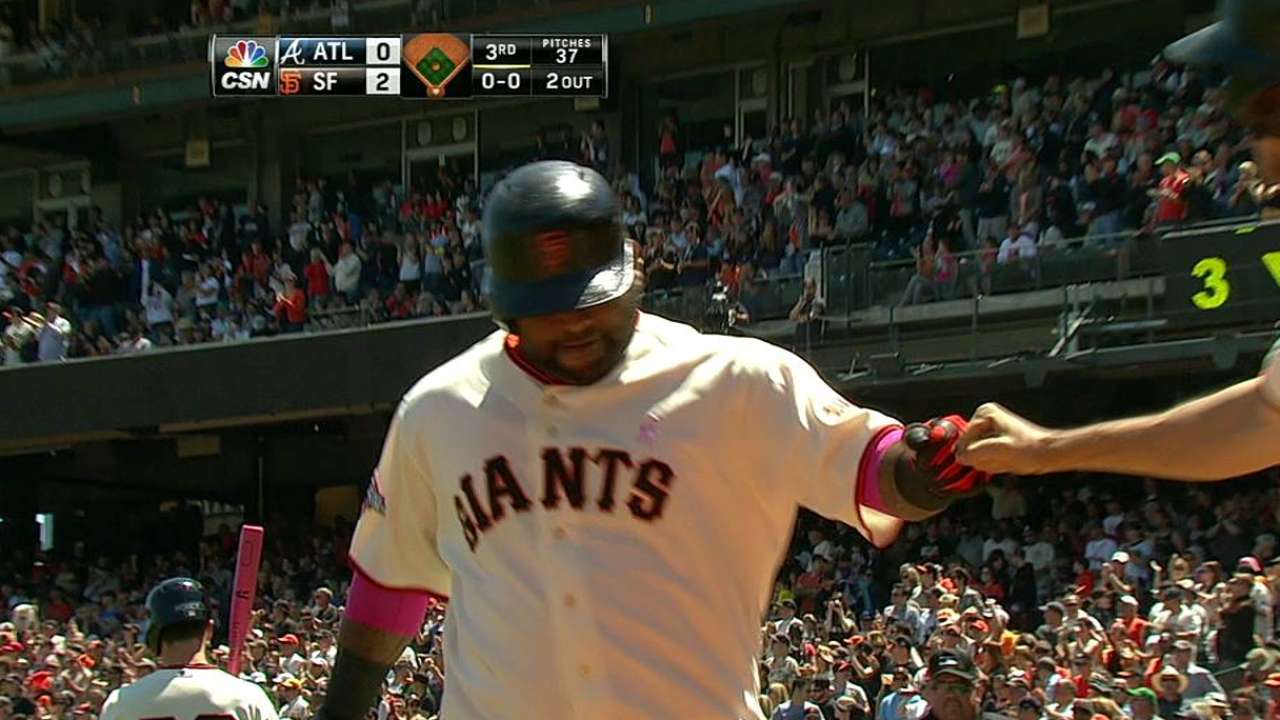 SAN FRANCISCO -- The Giants' pink bats contributed to a robust offensive performance Sunday.
The five hitters who swung pink bats -- Pablo Sandoval, Gregor Blanco, Brandon Crawford, Buster Posey and Marco Scutaro -- combined to go 6-for-15 with the special sticks in San Francisco's 5-1 victory over Atlanta.
The Giants joined Major League Baseball's 29 other clubs in the Going to Bat Against Cancer program by using and wearing pink-shaded equipment on Mother's Day.
Sandoval led the group with a third-inning "Splash Hit" home run into McCovey Cove. He also rapped an eighth-inning single in a 2-for-4 afternoon.
"I got lucky," Sandoval said. "Because the Mother's Day before, I didn't get hits."
In fact, Sandoval didn't play on Mother's Day in the previous two seasons, due to hamate bone injuries in each hand. He went 0-for-5 on Mother's Day in 2010.
Sandoval also applied artificial pink fingernail polish to his digits. But he wore the cutouts for only one inning.
Though Sandoval said, "It's a special day for all mothers, not just mine," he reserved special mention for his mother, Amelia. "If not for her, I'm not here," he said.
Blanco went 1-for-3 with a run-scoring ground-rule double. His fifth-inning hit might have been an inside-the-park homer had the ball not skipped into the stands.
Blanco said that thinking of his mother, Rosa, motivated him.
"I wanted to honor her every single moment," he said. "My mom is the best thing to happen to me. She brought me life and taught me good manners."
Crawford's mother, Lynn, attended the game. He rewarded her by going 2-for-3 with an RBI.
Posey went 1-for-4. The reigning National League Most Valuable Player didn't let his first-inning groundout deter him.
"I think in the past couple of years when I didn't get a hit the first time up, I got rid of it," he said. But Posey said that he decided "I'm going to go with it the whole way this year."
Scutaro put his pink bat aside after grounding out in the first inning. He proceeded to hit a homer and a double with his regular bat.
Chris Haft is a reporter for MLB.com. This story was not subject to the approval of Major League Baseball or its clubs.