Mijares departs after grandmother's death
Reliever placed on bereavement list; Rosario called up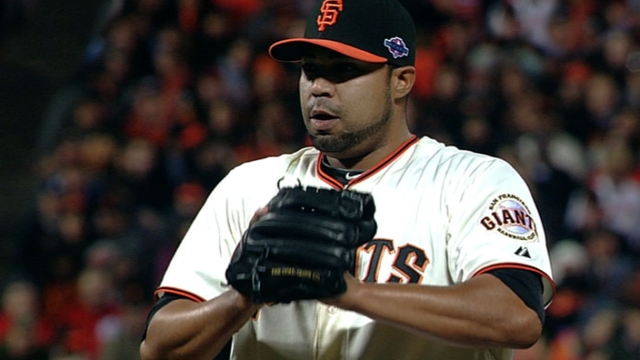 PHOENIX -- The Giants placed left-hander Jose Mijares on the bereavement list Monday, freeing the reliever to return to his native Venezuela to mourn his grandmother's death.
Giants manager Bruce Bochy related that Mijares, 28, learned after Sunday's series finale in San Diego that his grandmother had suffered a heart attack. Mijares left immediately for his hometown of Caracas. Players must remain on the bereavement list for a minimum of three days and a maximum of seven.
"He was very distraught," Bochy said of Mijares, who was raised by his grandmother following his parents' death in an automobile accident. "He was hoping to get home to see her but didn't get home in time."
To replace Mijares on the active roster, the Giants recalled right-hander Sandy Rosario from Triple-A Fresno. These moves left Javier Lopez as the only left-hander on the active Major League roster. The Giants could have avoided that by summoning left-hander Dan Runzler from Fresno, but Bochy explained that he wanted a reliever capable of throwing multiple innings. Rosario has pitched 13 2/3 innings in nine appearances with Fresno, compared to Runzler's 9 2/3 innings in 10 games.
Rosario also compiled a 3.29 ERA with 17 strikeouts, compared to an 0.93 ERA and 11 strikeouts for Runzler.
"It was a tough call," Bochy said, "because Runzler has thrown the ball well."
Chris Haft is a reporter for MLB.com. This story was not subject to the approval of Major League Baseball or its clubs.