Affeldt to pitch against hitters before return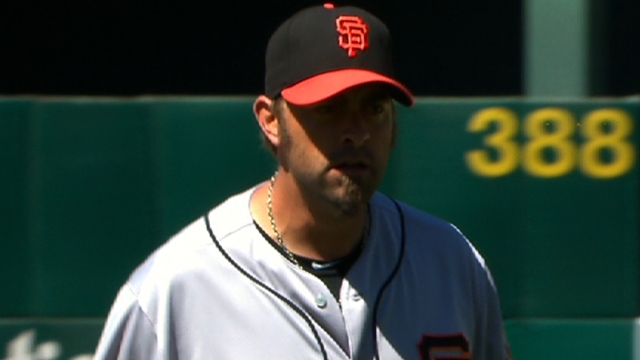 PHOENIX -- Before left-hander Jeremy Affeldt leaves the disabled list, the Giants want to see him face hitters, a final step that will occur Wednesday.
Manager Bruce Bochy said Monday that Affeldt, who has been sidelined since April 15 with a strained right side, will either throw a simulated game against Giants teammates at Chase Field, face Minor Leaguers in extended spring training at the club's nearby training complex in Scottsdale, or make an injury rehabilitation appearance for Class A San Jose, which faces Bakersfield at home that night.
Affeldt will officially become eligible for reinstatement Tuesday, but the decision to have him confront hitters meant that his likely return date is Friday, following Thursday's scheduled off-day.
Affeldt was satisfied with his throwing session off a bullpen mound Monday, citing his improved command and success in throwing the entire repertoire of his pitches. He credited spirited workouts for his ability to avoid a prolonged layoff, assuming he doesn't experience a late setback.
"We've been pretty aggressive with it," Affeldt said. "I've been in the training room forever every day."
Chris Haft is a reporter for MLB.com. This story was not subject to the approval of Major League Baseball or its clubs.