Bochy hoping moving Belt down eases pressure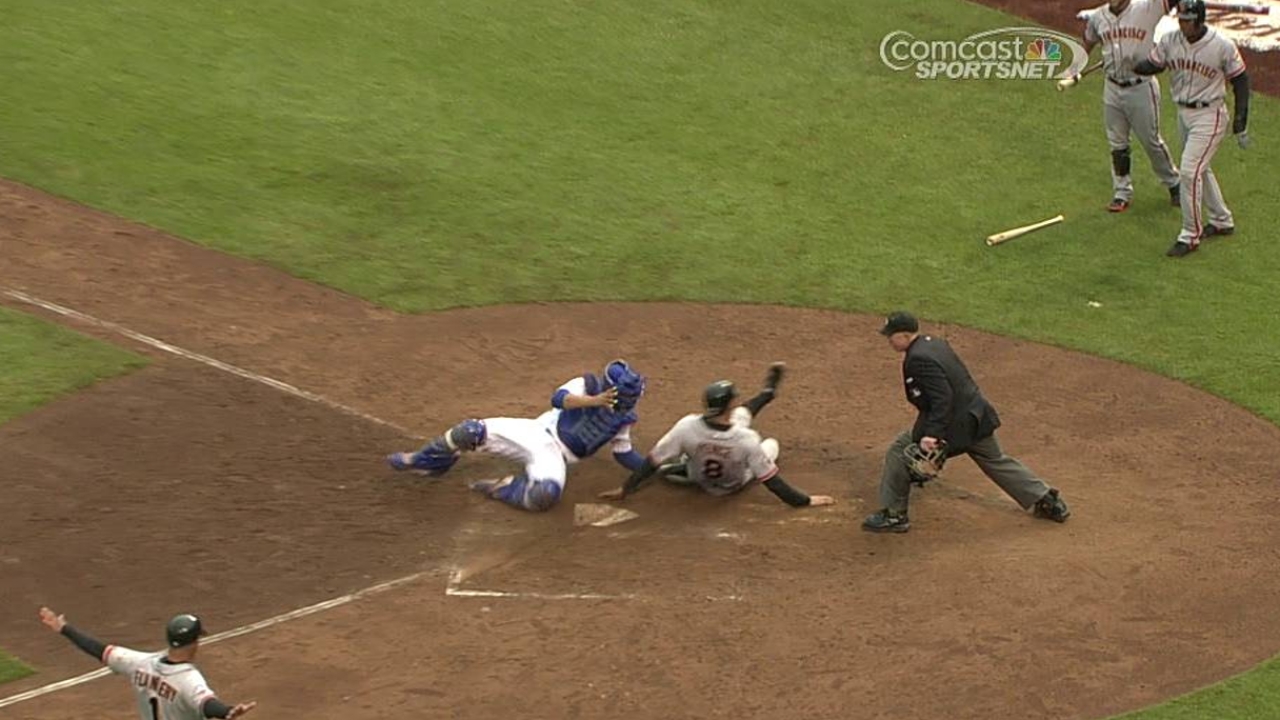 MILWAUKEE -- Tuesday had the potential to serve as a breakthrough for Giants first baseman Brandon Belt, who notched three hits, a stolen base and two RBIs. But Belt struggled again the following night, going 0-for-3 with a pair of strikeouts and a flyout with the go-ahead run on third base. On Thursday, he was slotted seventh in the batting order, his lowest position this season.
With Buster Posey given a day of rest by Giants manager Bruce Bochy, Brandon Crawford -- batting outside of the eighth spot for just the second time this year -- was elevated to the fifth spot in the order behind cleanup batter Hunter Pence.
Belt's batting average improved from .254 in the first half last season to .293 in the second half, with an improvement in on-base percentage and OPS. He batted .410 with eight homers in Spring Training, but has started the regular-season slowly after a stomach virus limited his action early.
"We'll see how he swings [Wednesday], but I may keep him there for a little while until he gets more comfortable at the plate," Bochy said. "I know guys get hot and cold, that's going to happen. Brandon's really made some nice strides from last year and this spring with the bat. I think in the early go here, he's thrown up some good at bats. I'm liking where he's at today.
"Sure, you're hoping going down there will take a little pressure off him."
Bochy said he did toy with the idea of starting Posey at first base, but he elected to give his full-time catcher the breather, with Hector Sanchez getting his fourth start of the year and first in a game receiving a starting pitcher other than Tim Lincecum. Second baseman Marco Scutaro was also given the day off for the 10:10 PDT start, with hot-hitting Nick Noonan batting sixth and playing second base.
Crawford came into the game deserving of the upgrade in the lineup. He's hit safely in a career-best 10 games, batting .394 in that span and reaching safely in the last 13 contests. Crawford's 10-game hitting streak matched the run by teammate Pablo Sandoval and Pittsburgh outfielder Starling Marte for best active string in baseball.
"I like where he's at, the way he's swinging the bat and getting on base," Bochy said. "He shortens up really well now [with two strikes]; his swing is more compact. He uses the whole field well."
After an identical front eight for the Tuesday and Wednesday lineups in Milwaukee, Bochy gave Noonan his second career start. Noonan, who delivered another hit Tuesday and has now gone 7 for 13 in his first eight big league games, started for the first time April 11 and went 3 for 5 in Chicago.
JR Radcliffe is a contributor to MLB.com. This story was not subject to the approval of Major League Baseball or its clubs.