Bochy gives Schierholtz his World Series ring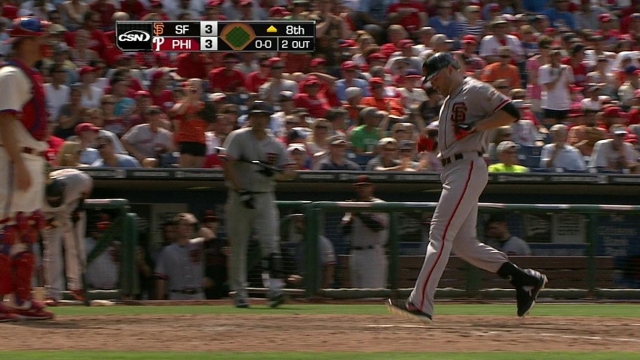 CHICAGO -- Chicago Cubs right fielder Nate Schierholtz wasn't in Saturday's lineup, but his former teammates saw to it that he had an enjoyable afternoon.
Schierholtz received his 2012 World Series ring in a highly informal pregame exchange behind the batting cage at Wrigley Field.
Schierholtz left the indoor batting cages in right field and was stopped by Giants manager Bruce Bochy on his way to Chicago's clubhouse as San Francisco took batting practice.
"I've got something for you," Bochy said, handing Schierholtz his ring, which was enclosed in a baby-blue Tiffany box.
Schierholtz, who was traded to Philadelphia last July 31 in a four-player deal that brought Hunter Pence to the Giants, opened the box, briefly admired the ring and thanked Bochy.
Schierholtz didn't mind the lack of pomp and circumstance. "I think this is a little different because I didn't finish the year with the team," he said.
Chris Haft is a reporter for MLB.com. This story was not subject to the approval of Major League Baseball or its clubs.