MVPs Kent, Mitchell express admiration for Posey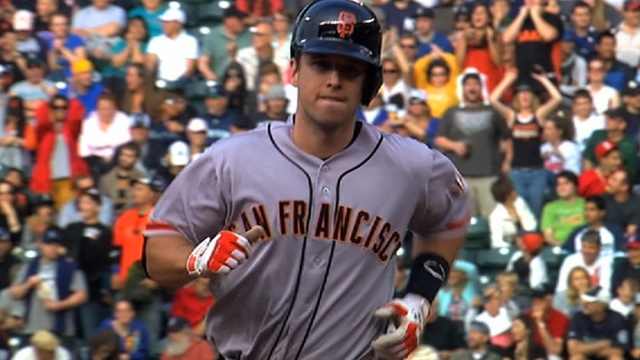 SAN FRANCISCO -- Kevin Mitchell looked at Buster Posey's mugshot shown on the video board at AT&T Park and shook his head, confirming the opinion he's had since watching Posey play at Class A San Jose.
"He's like the All-American Boy, like Captain America," Mitchell said.
On Saturday, Posey received the hardware to show he's also an MVP -- just like four other former Giants stars in attendance, Willie Mays (1954, 1965), Willie McCovey (1969), Mitchell (1989) and Jeff Kent (2000).
"I knew this day was coming for a while for him," Kent said. "I just didn't know when."
Mitchell and Kent were here to welcome Posey to a special Giants fraternity. Posey is the seventh Giants player to win an NL MVP, joining Carl Hubbell (1933, 1936), Mays, McCovey, Mitchell, Barry Bonds (1993, 2001 to 2004) and Kent.
Both Kent and Mitchell commended Posey for doing it the difficult way: playing catcher, an important, demanding position.
"I can't do it," Mitchell said of playing catcher. "No way."
Mitchell and Kent did it similar to Posey's way, posting the MVP-caliber numbers. In 1989, Mitchell had 47 home runs, 125 RBIs and a big part in securing the team's World Series appearance against the Oakland A's. Kent had 33 home runs and 125 RBIs for the 2000 Giants, who won the NL West before losing in the Division Series to the Mets.
Kent highlighted what he saw as a mental strength Posey has, both to overcome his broken leg in 2011 and manage a pitching staff.
"He's a smooth, reserved, intelligent ballplayer," Kent said. "The best ballplayers are smart. People want to recognize the physical talent he is, but it's the intelligence of his that really stands out."
Willie Bans is a contributor to MLB.com. This story was not subject to the approval of Major League Baseball or its clubs.