Giants' latest cuts include Tanaka, Monell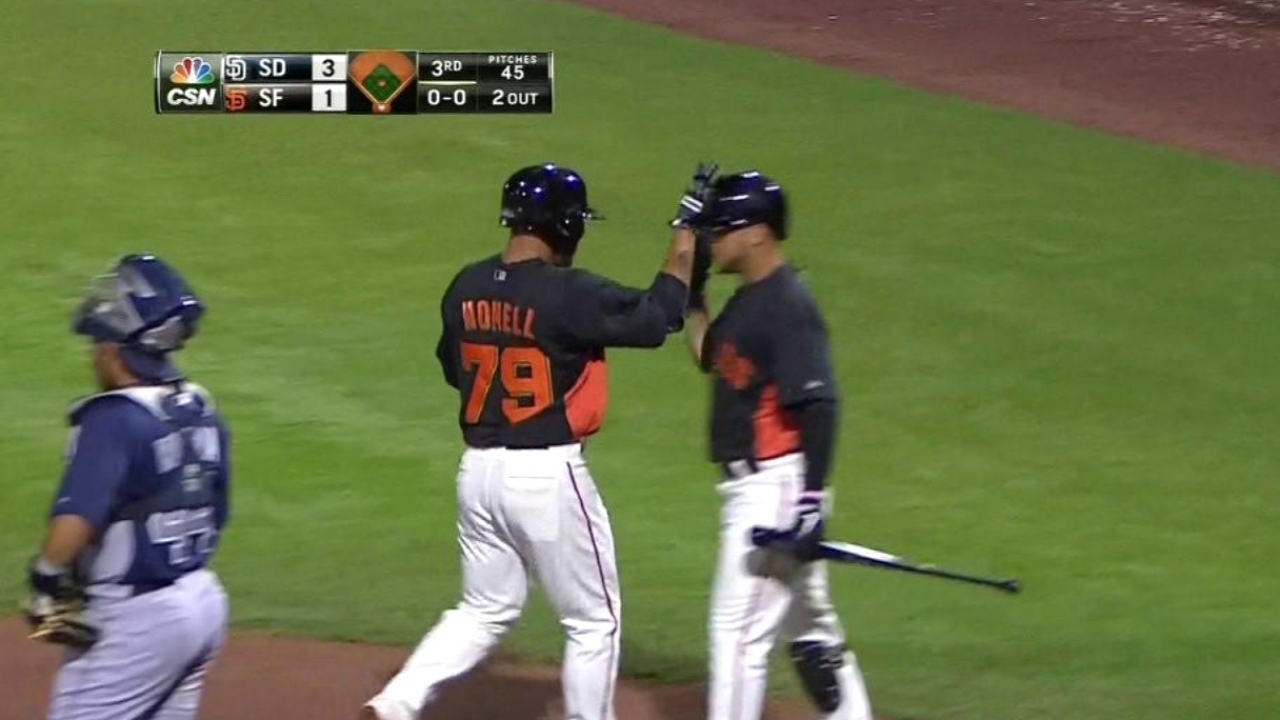 SCOTTSDALE, Ariz. -- Kensuke Tanaka's bid to make the Giants' Opening Day roster ended Thursday, when the club reassigned him to Minor League camp.
Tanaka, 31, did not display the form that made him an All-Star and Gold Glove Award winner with the Nippon Ham Fighters in Japan. He hit .229 (11-for-48) with a .275 on-base percentage and a .250 slugging percentage in 19 Cactus League games. The non-roster invitee also committed seven of the 19 errors the Giants have recorded.
Primarily a second baseman, Tanaka also played shortstop and third base in spring games in an attempt to fit a utility infielder's profile. But he committed at least one error at each position.
"I'll say this -- he's one of the hardest workers you'll see," Giants manager Bruce Bochy said. "But coming here is an adjustment for him. He's had a lot on his plate, trying to play short and third."
Bochy indicated that Tanaka would likely accept the move to Triple-A Fresno, though that would force the 31-year-old to accept the transition from stardom in the Japanese big leagues to the humbler environment of the Minors. Tanaka worked out with the Giants before Thursday night's game against Colorado and will report to Minor League camp on Friday.
With Tanaka gone, Wilson Valdez would appear to have a lock on the second utility infielder's spot. But Bochy sounded less than enthusiastic when asked about Valdez's status, suggesting that the Giants are examining outside possibilities for another infielder.
"He's still here," Bochy said of Valdez. "There have been no decisions made."
The Giants also reassigned catchers Johnny Monell and Jackson Williams to Minor League camp, where they will report Saturday and Friday, respectively. Monell impressed the Giants with his offense, batting .500 (10-for-20) with one home run and five RBIs in 14 Cactus League games.
Bochy said that he and general manager Brian Sabean briefly discussed keeping Monell as a third catcher on the Opening Day roster but opted to give the 26-year-old more Minor League seasoning. Bochy added that this is a potentially pivotal season for Monell, who becomes eligible for Minor League free agency after this season. As a left-handed-batting catcher, Monell has definite value.
"Johnny needs to play," Bochy said. "He's determined to shed that label that he's not a good defensive catcher. He has the tools to be one."
The moves left 34 players in Major League camp.
Chris Haft is a reporter for MLB.com. This story was not subject to the approval of Major League Baseball or its clubs.