Mending Mijares throws batting practice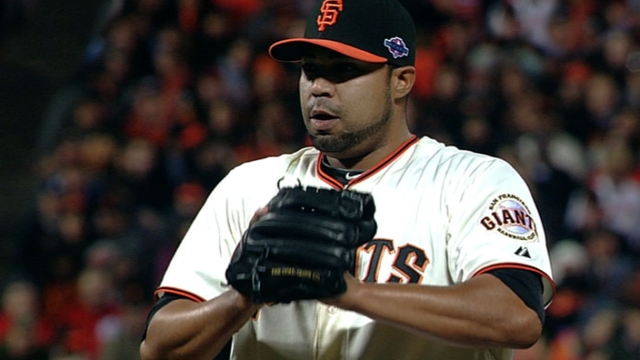 SCOTTSDALE, Ariz. -- Left-hander Jose Mijares, attempting to overcome a sore elbow, took his first major step toward returning to competition by throwing batting practice Wednesday to Hector Sanchez and Kensuke Tanaka.
The Giants must evaluate Mijares' condition Thursday before determining his next activity. If he physically withstands the BP session, he could be pitching in Cactus League games by early next week. Mijares' injury has limited him to two appearances this spring.
Non-roster catcher Johnny Monell, who served as Mijares' batterymate, was impressed.
"He had a lot of life on his fastball," Monell said of Mijares, who had a 2.55 ERA in 27 relief appearances after the Giants claimed him off waivers from Kansas City last Aug. 6. "His sinker and breaking ball looked really good, too."
Still bothered by soreness in his right shoulder, the switch-hitting Sanchez took batting practice right-handed against Mijares and with the rest of the team before getting some extra at-bats in a Minor League exhibition.
First baseman Brett Pill, who underwent arthroscopic surgery Monday in San Francisco to repair a torn meniscus in his right knee, has improved so rapidly that he might resume baseball-related activities sooner than later. By contrast, infielder Tony Abreu, who began camp with a solid chance of securing a utility role, remained inactive with a knee injury.
"It's pretty amazing," manager Bruce Bochy said. "[Pill] had surgery, and he could be ready before Abreu."
Chris Haft is a reporter for MLB.com. This story was not subject to the approval of Major League Baseball or its clubs.