Gillespie impresses with walk-off home run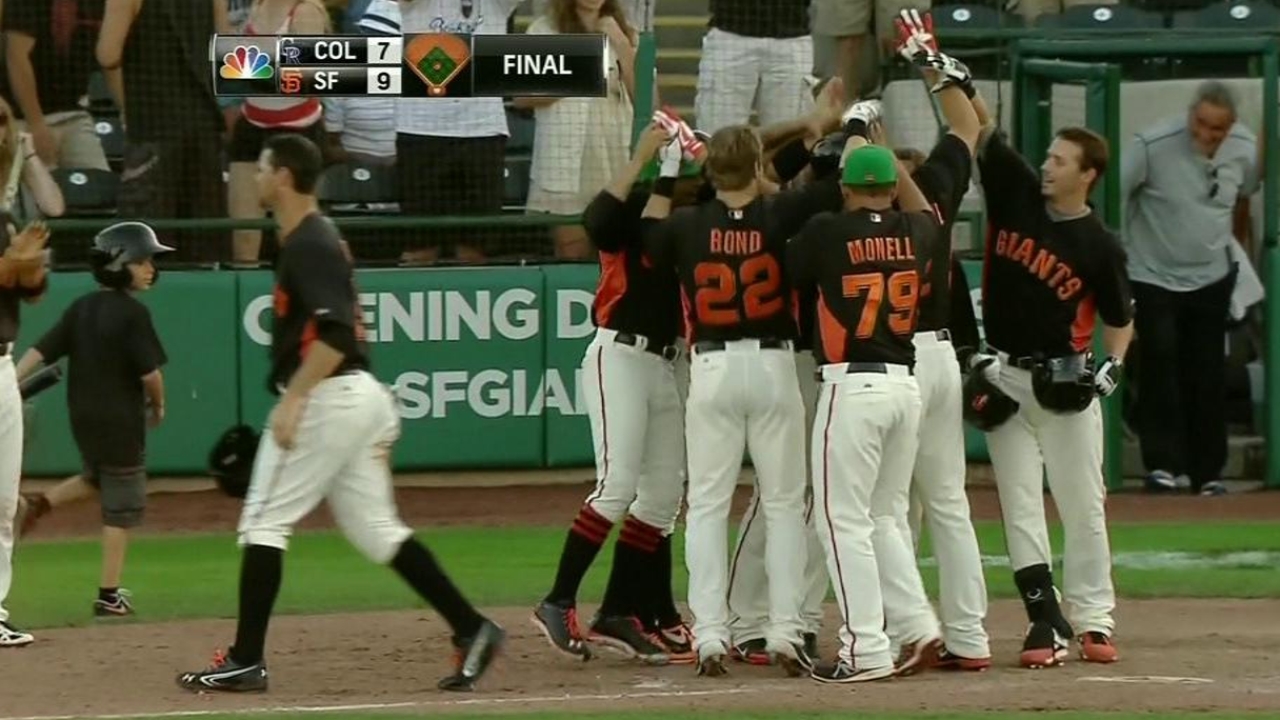 SCOTTSDALE, Ariz. -- After belting a three-run, homer on Sunday to lift the Giants to a 9-7 Cactus League victory over the Rockies, Cole Gillespie was asked if he remembered his last walk-off blast. Gillespie recalled one he hit on July 4, 2008, while playing for Double-A Huntsville in the Diamondbacks' system.
Fourth of July? St. Patrick's Day?
"I've got a good thing going with holidays," Gillespie joked.
A reporter playfully asked Gillespie whether April Fool's Day is a holiday. That, of course, happens to be the date of the Giants' regular-season opener at Los Angeles. Competing for a spot as a reserve outfielder, Gillespie would like nothing more than to be with the Giants for that occasion.
"Hey, if I have an opportunity on April Fool's Day, I'm doing something right," Gillespie said.
Gillespie, a non-roster invitee, improved his chances of sticking with the Giants by roping Danny Rosenbaum's 3-2 pitch over the left-center field barrier to conclude a four-run ninth-inning rally.
Gillespie's batting .306. His most direct rival, rookie Francisco Peguero, is hitting .385. But Gillespie possesses more Major League experience than Peguero, having spent parts of the 2010 and '11 seasons with Arizona.
"Every opportunity, every at-bat counts," Gillespie said. "It's been a long spring, but I still have a couple of weeks left to do some stuff. Every time I get in there, I don't want to take anything for granted. I want to make something happen, and hopefully make those coaches think a little more."
Chris Haft is a reporter for MLB.com. This story was not subject to the approval of Major League Baseball or its clubs.